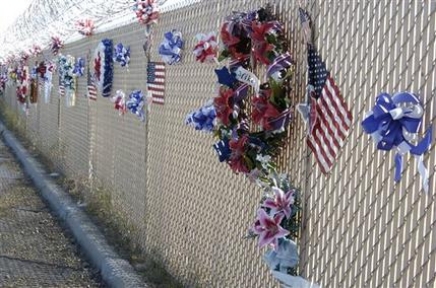 This is an extreme tragedy that did not have to happen. The U.S. Global War On Terror as it has been executed in the world can easily be interpreted as a war against Islam. Obviously Major Hasan is solely responsible for his murderous acts of vengeance. But it would be foolish to ignore what led him down this terrible path. This feeling of protecting Islam against attack by the U.S. may be leading others to the same conclusion. Is our foreign policy paving a path to more retaliation and anger from our own citizens? This is an important question that we must face with brutal honesty for our own sake.
FORT HOOD, Texas (AP) — The 6-foot-tall block of granite is etched with 13 names, each a victim in the shooting rampage at Fort Hood one year ago.
"Death leaves a heartache no one can heal – Love leaves a memory no one can steal" is engraved at the top of the rectangular marker that will be unveiled near other post memorials on Friday, the one-year anniversary of the shooting. Until now, the only outward reminders of the worst mass shooting on a U.S. military base have been several wreaths and crosses along the fence built around the now-shuttered building where it happened. For full story click here.

Popularity: 1% [?]