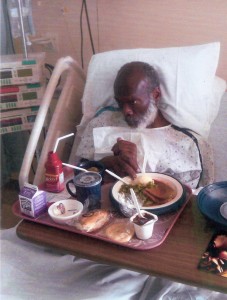 Saturday, November 6th, I attended a rally to hold Rahway New Jersey police officers accountable for shooting Fritz Louissaint 5 times when trying to arrest him. Fritz according to witnesses was unarmed. So far the police have not produced a weapon or the video they claim will show the shooting was justifiable. Read story below.
What You Can Do! Video 1 Video 2 News: Article 1
On April 16th 2010 a frail, unarmed and mentally challenged Haitian American man name Fritz Louissaint was shot 5 times at close range by Rahway Police Officers Sgt. Anthony DeCarlo and Edward O'Donnell.
Fritz Louissaint survived the attempt on his life. He is now recovering in the Union County Jail on a nine count indictment for crimes he did not commit.
The police assert Mr. Louissaint attacked them with a long harpoon like knife, an account that eyewitnesses strongly refute.
Rahway's Mayor James Kennedy is quoted as saying, "I saw the videotape of the whole incident that was captured on the police cruisers video cam showing Mr. Louissaint with his hand over his head, like in the movie Psycho, and then he lunged at them. However, as November 9, 2010, the department has not released the videotape.
The mayor's statement damages Mr. Louissaint's right to due process because candidates for the potential grand jury may be influenced by his judgment and not maintain the neutrality needed for a fair review of the charges and evidence.
The Justice for Fritz Louissaint Campaign encourages everyone who stands for liberty, justice and the pursuit of happiness to write a letter or phone U.S. Attorney for the District of New Jersey Paul J. Fishman and request the Justice Department to intervene in the Fritz Louissaint case.
U.S. Attorney Paul J. Fishman
Newark U.S. Attorney's Office
970 Broad Street, 7th Floor
Newark, NJ 07102
Ph (973) 645- 2700
Fax (973) 645-2702
U.S. Attorney General Eric Holder
U.S. Department of Justice
Civil Rights Division
Criminal Section, PHB
Pennsylvania Ave, NW
Washington, DC 20530
Ph (202) 514-3204
Fax (202) 514-8336
Join the People's Organization for Progress, P.O. Box 22505, Newark, NJ 07101-2505 (973) 801-0001